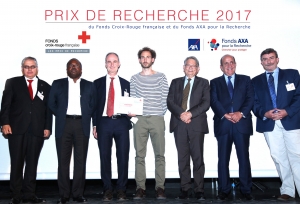 A conference entitled "Humanitarian transition and ethical reflections in Lebanon," was held on November 16 and 17, 2017 at the Saint Joseph University-campus of the Humanities in Beirut, and was organized by the French Red Cross Fund, the Lebanese Red Cross and the University of Saint Joseph. Within the scope of this conference, the French Red Cross Fund and the AXA Research Fund presented this year in Lebanon awards to three laureates.
Mr. Assaf DAHDAH, Young Researcher Award
Mrs. Séverine AUTESSERRE, Jury Special Award
Mr. Gilles CARBONNIER
The ceremony was attended by Mr. Jean-François Mattei, Honorary president of the French Red Cross, Ms. Veronique Aulagnon, Director, French Institute in Lebanon, and Mr. Roger Nasnas Chairman and CEO of AXA Middle East SAL speaking on behalf of the AXA Research Fund.