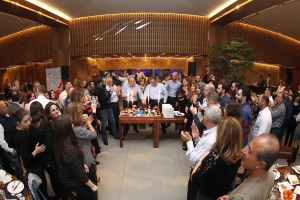 The lunch of the end of the year festivities gathered the staff and close partners of AXA Middle East at Sultan Brahim restaurant – Beirut, on Friday the 22nd of December 2017.
The friendly and festive atmosphere was livened up by the "Hadi Daou and the band" around a tombola and souvenir photos.
On the occasion, the President Roger Nasnas, the General Manager Mr. Elie Nasnas, and the Management Board thanked the staff members for their commitment, dedication, and professionalism and highlighted their competence that is quintessential to the various objectives the company.
The lunch ended around a cake wishing the staff and AXA Middle East success and prosperity for the New Year 2018.